It's no secret that supply chain software is a major investment. So, it's important to properly assess and evaluate the systems that are on the market. Choosing the first system you find without proper research could cause more issues for you in the future. Even if a system is popular, it doesn't mean that the software suits your business. You want a system that has the functions you need and will help your business grow. If you are unsure where to begin, this article will give you a starting point for what to look for in your search.
Supply Chain Software Tiers
There are so many different types of supply chain software out there, which can make it hard to see which one is right for you. They can include anything from Enterprise Resource Planning (ERP) software, to operations, inventory, and warehouse management. Figuring out what is within your budget and suitable for your company's size can be a daunting task. The diagram below shows the different tiers, which may help you determine the right fit for you.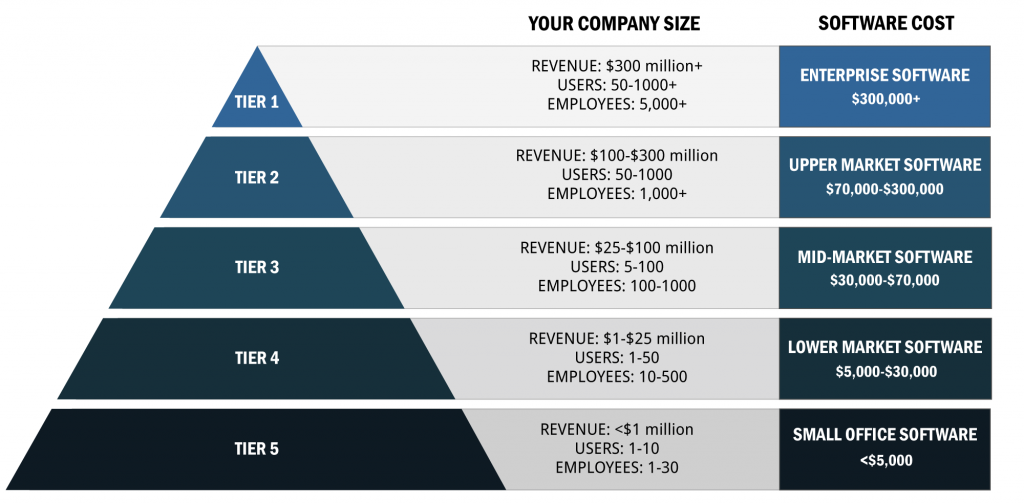 Based on the criteria in the diagram, your company should fall into one of the five tiers. This will estimate how much your supply chain software should cost. Keep in mind that this is a general guideline, and prices may vary depending on the kind of system. We recommend that you search for software just below and above your target price range. This will help you determine if you're willing to spend a little extra for a more, are happy with the functionality in your price range, or can work with a little less for a smaller cost.
Larger Businesses Integrating with ERP
If you are a larger business looking for specialized standalone software to integrate with your ERP, we recommend looking in the mid to lower ranges. The price range for standalone software will typically not exceed mid-market price ranges. But, this does not mean that the systems are not scalable to your size, or lack functionality. In fact, standalone systems often offer more for their area of specialization. They are also easier to customize than your ERP. In addition, integrating this sytem can be more cost-effective, quicker to implement, and easier to maintain than adding an ERP module. For more information, check out 4 Reasons to Integrate Inventory Software with Your ERP.
The cost of supply chain software will depend what your company needs it for. In general, more revenue, users, and employees means you need a more robust system. Systems with more functionality and scalability will be at the higher end of the software price range. Software Advice found that small businesses spend an average of $30,000 on supply chain management software, and mid-size to large businesses spend an average of $171,000. This gives a general idea of costs, and how much you should be investing.
Tier 1: Enterprise Software
Enterprise software is comprised solely of ERP systems. This covers multiple software applications and manages most or all of the supply chain. Companies purchasing Tier 1 software are usually multi-national companies with hundreds or thousands of locations around the globe.
Tier 2: Upper Market Software
Upper market software includes mostly ERP systems, but they are less powerful and complex than Tier 1 counterparts. Upper market ERP software has less functionality and scalability than enterprise software, but is more robust than mid-market software. This tier is well-suited for larger businesses with over 1000 employees.
Tier 3: Mid-Market Software
Mid-Market software is more inclusive to a variety of software systems, and is not mostly ERP systems. There are still a significant amount of ERP systems in this tier, but starts to include specialized systems. These standalone system can be for logistics, warehouse, operations,  and inventory management and more. These quality systems are customizable and can integrate with other systems. Although affordable for the mid-market, they are often scalable to larger companies.
Tier 4: Lower Market Software
The majority of lower market software includes standalone systems, with no ERP. Lower market software tends to be more robust than small office, but is usually less flexible than mid-market. These systems are great for small businesses that have outgrown small office software and need more functionality.
Tier 5: Small Office Software
Small office software includes basic software functions for businesses with a small number of customers and locations. This software is targeted at start-up companies or businesses with less than 30 employees. But, they're not customizable and have a limited number of software integrations.
Want to learn more?
Check out our post 5 Tips on Selecting the Right Inventory System to learn more about finding inventory management software.