Fulfillment and Replenishment
Know exactly when your inventory needs to be restocked. Never have a late order again.
A Customized Solution to Meet All Your Business Needs
The Clear Spider fulfillment and replenishment function is fully customizable and can be modified to meet your individual business needs. This provides your organization with greater efficiency and accuracy than other out-of-the-box inventory management systems can offer. Our replenishment function can help set your business apart from competitors by delivering a better quality service to your customers.
---
Benefits of Inventory Management and Control
Here are just a few of the benefits our clients experience after implementing Clear Spider's Inventory Management and Control solution.
Reduced Write-Offs and Write-Downs
Improved Customer Service
Increased Sales and Profitability
Increased Visibility and Tracking
Simplified Order Planning
---
Fulfillment and Replenishment Doesn't Have to be Complicated
Substandard order management can be costly for your business. Stock shortages, expired items, and insufficient lead-time are a few examples of issues our Fulfillment and Replenishment function can solve. Help your workers and clients stay on top of supply and demand with our software. Clear Spider makes managing your inventory simple by giving you complete control over all of your inventory processes.
---
Automatic Replenishment
Stop wasting time trying to figure out what you need to reorder. Automatic replenishment effortlessly determines how much stock needs to be reordered. Using historical data, you can pre-set minimum, maximum, and reorder points for each item that you want to be replenished. The Clear Spider system is then able to automatically create purchase orders when inventory levels for those items approach their reorder points.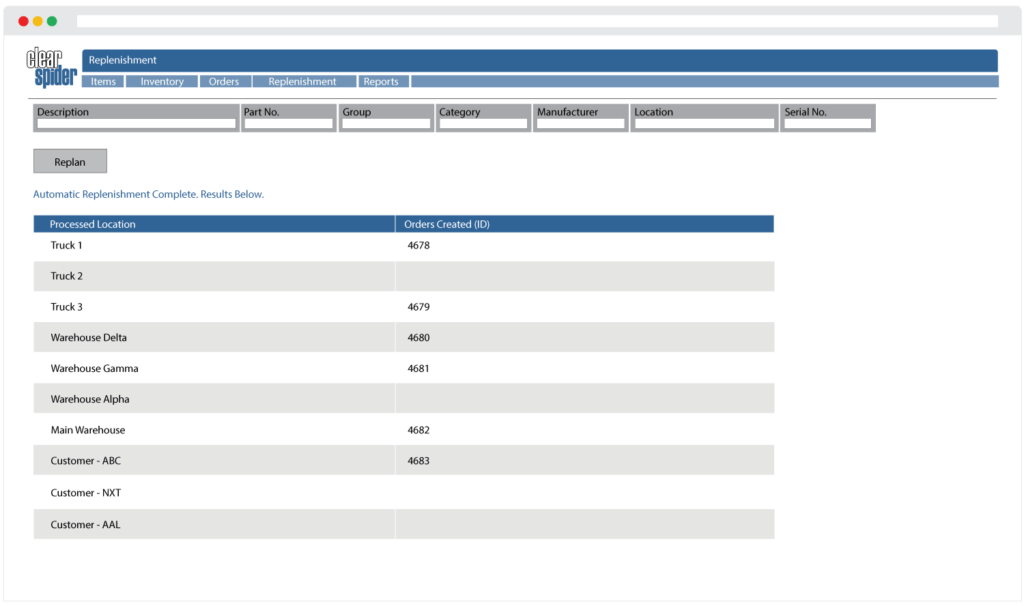 ---
How Our System Works
After importing your items into the system, you will be able to set their order criteria, such as lead-time and safety stock, to determine the reorder point. When your orders need to be replenished, a notification will be sent to you or your suppliers. This will ensure your products are delivered when you, or your customers, need them.
---
Other Fulfillment and Replenishment Features
Drop Ship Logic
Clear Spider supports drop shipping, which is the process of shipping your products directly from the supplier to your customers. Drop shipping helps your company avoid holding stock and streamline your supply chain.
Inventory Tracking
Quickly see an overview of all items and their current inventory levels. Know when you should reorder from your suppliers or when your customers should be replenishing their inventory
Kitting
Kitting is the process of combining multiple parts into one order. If multiple parts are often bought together, creating a "kit" is an easy solution to making packaging and shipping safer for your products.
– Learn More –
Order Status Updates
Give your customers visibility and build strong relationships. With Clear Spider you can easily provide updates on processing, shipment and expected arrival time of orders to your customers.
Supplier and Customer Access
Give your customers and suppliers a user ID so they can access your system. Set custom permissions so that these users only have access to information and functions necessary for their business operations.
– Learn More –
---